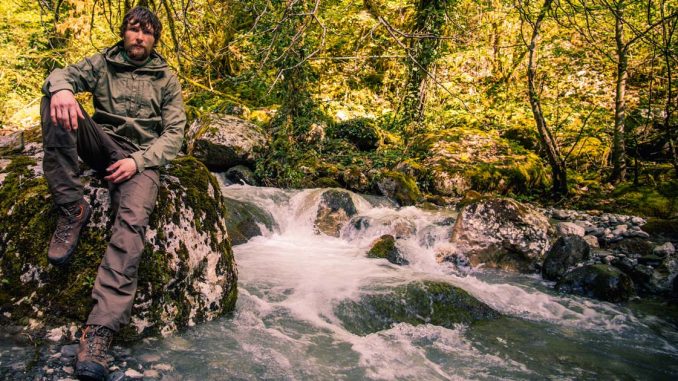 Outdoor sales are thriving despite retail's downward trend. The proof is in the numbers: The NPD Group found that hiking and camping products such as cargo boxes, trekking poles and solar powered tools are on the rise, and activewear sales have grown while regular fashion has stagnated. And research by Southwick Associates found that anglers spend more on fishing annually than Americans spend on Valentine's Day, Easter, and Halloween combined.
But in the facts and figures, it can be easy to forget what maybe be outdoor's biggest advantage: your customers are interested in the outdoor industry for deep, personal reasons. They likely aspire to better themselves, to travel and see the world. They may also be motivated by increased security and self-sufficiency. And your customers themselves are changing – and in turn, changing the game. Read on to find out about the trends you need to know to position your outdoor marketing strategy for success.
A new definition of the outdoors
The athleisure trend – wearing activewear outside of athletic situations – has redefined outdoor to encompass general fitness. Brands should pay attention to their positioning to keep up with the reversal of core and casual participation. If you're only targeting outdoor natives and devotees, you're missing a large part of your potential audience.
The Outdoor Industry Association segments consumers on a range from the experienced to more casual participants. Think the difference between an avid climber or marksman and someone who goes camping because it's on their bucket list. Whether with urban homesteading efforts or weekend expeditions into the mountains, there's a new wave of people taking your product outdoors – and even more who use it in a purely style context.
The rise of athleisure has also changed what consumers expect from outdoor products. As leggings, sneakers, and outerwear move out of the gym and onto the street, consumers want clothing and gear that work in multiple situations. This new wave of athletes is looking for branding that emphasizes performance and durability.
A nonlinear path to purchase
Every trend forecaster is talking about omnichannel. Your customer is looking for you on foot, online and on mobile, so it follows that the path to purchase is no longer a linear one. Customers discover you in multiple ways and consider their purchase with lots of comparison and review. Brand awareness – and subsequently brand loyalty – is now a constant process of active evaluation.
Email is one place where you can make a difference at the customer's key decision points. Take for example abandoned cart recovery. Shopping cart abandonment is evidence of the fragmented purchasing cycle: your customer might have started shopping in one tab and ended up browsing reviews in another. Now that you've found them in their inbox you can nudge them to revisit their purchase.
Outdoor Marketing: Video!
We mentioned how videos are successful on Instagram. Internet and social media are far and away the most popular media consumption outlet for outdoors content. Notably, YouTube continues to be one of anglers' most visited websites. They tend to choose YouTube over brand-specific sites because it offers original content such as how-to videos and product reviews. Video drives engagement and makes your content stand out on the digital shelf.
In addition to using video on social media, create videos about your products. People love watching unboxings and product reviews. But don't overthink it – there's no need to reinvent the wheel. Customers are ultimately drawn to this kind of content because it's casual and low-fidelity, which fosters a sense of trust. This ultimately influences their purchasing decisions as a part of a multichannel path to purchase.
Social media
Instagram is driving trends in travel and fitness, and nature destinations are feeling the crush. Per the National Park Service, national park visits were at a high in 2017.
It makes sense given how with the ubiquity of technology, you're less than ten clicks away from discovering a locale to booking tickets there.
But ultimately what draws consumers to your outdoor brand is exactly that: the outdoors. Your audience is captivated by scenic vistas, sparkling water, and breathtaking animal encounters. This is what gets them outside, so you can't forget it when developing your digital strategy. Use the sensory nature of your product to drive engagement through beautiful photos and videos (complete with moving, illustrative captions).
Speaking to Camber Outdoors, NPD exec Julia Day said what outdoor has over most brands is its authenticity. You can showcase this quality by focusing on the people behind your brand: feature customer stories and a look into your company culture. But The Snyder Group cautions to think about the goal of your social strategy (e.g., increasing brand awareness, promoting sales via ads) so your online presence is cohesive.
DIY
The do-it-yourself craze has had an impact on outdoor brands, with particular implications for the survival industry. There's a renewed interest in self-defense and self-sufficiency, but your customers might be getting drawn away by personal blogs and DIY resources. (Pinterest, for example, is home to a large survival community offering tips on emergency preparedness.) Guide them back to you with interesting, informative content.
Google programmatically ranks certain pages as a Featured Snippet – an immediate answer that doesn't lead you back to a third party. They do this by detecting sites that seem to answer questions people are searching for. That's why sites that offer in-depth articles are more likely to rank first. Aim for this coveted spot by making SEO part of your strategy. On your brand's website, use titles and subheadings that use terms that match search queries.
Augmented reality / virtual reality
Though it might seem antithetical to getting out in nature, AR and VR technology has a place in outdoor marketing. Consumers using virtual reality to shop for clothes is growing more and more mainstream. Outdoor brands should follow this outlook and invest in this technology to stay ahead of the pack.
We mentioned how today's consumer is shrewd in comparing products. Your consumer is already starting to use augmented reality to try products on or see how they fit in a space. Brands like IKEA and Sherwin-Williams offer apps that let customers see how something would work with their interiors before committing to a purchase. This same technology has applications for tents, kayaks, and top-of-car components.
Values-driven shopping
One major trend driving outdoor consumers is values. As Gen Z enters the economy, they're spending on brands that promote social causes and match up with their guiding beliefs. Additionally, the composition of the outdoors community is more diverse than ever.
Case in point: the face of hunting has changed. And the shift towards urban living is luring people away from the practice. Recapture and grow your audience by looking for the opportunity in this challenge. There are young people who want to hunt but don't because their self-concept doesn't match what they see. Reposition your brand by speaking to the sustainability and self-sufficiency that hunting provides.
This all sounds nice, but how does your brand put it into action? Brands can showcase their values with content in blogs, digest emails, and well-written copy. Use your site and promotional materials as a chance to talk about the craftsmanship and design heritage that goes into your products, the integrity of your brand and how it came to be. People care about authenticity in their products.
Community
The decline of third places – environments outside of work and home that lend naturally to socializing – is creating a sense of disconnection among consumers. For many, the outdoors have taken up this mantle. In addition to the typical marathons and fitness classes, younger generations are seeing a return to camping – a trend KOA president Toby O'Rourke credits to a desire to connect with nature and each other.
Tap into the desire for community by showing your brand's unique opportunities for connection. Fjall Raven does this by offering meetups centered around putting their activewear to use. But you don't have to transform your offline strategy to get results: REI uses navigation labeling to this end, calling their blog a "co-op journal." It offers how-to's, original video content and op-eds on social issues relating to the outdoors. By branding the page this way, REI makes visitors feel like they're part of a collaborative blogging community.
What Consumer Trends Mean For Your Outdoor Brand
In many ways, it's never been a better time to be in the outdoor business. The outlook for outdoor marketing is good as activewear continues to outpace the rest of retail. And you're in the unique position of not selling a digital product like a subscription service or SaaS. You're marketing an offline experience only you can provide.
Going forward, think about how to retain your current consumers and attract new ones. Showcase how your brand offers valuable experiences for personal growth and connection. And remember that today's consumer has access to information about how their products are made and they care about what their dollars are funding.
Whatever your customer's values, they want to see themselves in your brand. So tell a compelling story that inspires them to get outside.
Need help with you Outdoor Sports marketing strategy?
Richardson Marketing has been helping outdoor brands find their voice and connect to their customers since its inception — not just gain fake followers on social media. We know how to speak to your consumers, because we are your consumers.
We run some of the biggest outdoor sporting content brands in the industry, including OFFGRID Survival and Country Hookers, and have connections with some of the top outdoor sites in the world. So if you are looking for away to connect to a new audience, or generate buzz around your brand and products, drop us a line!