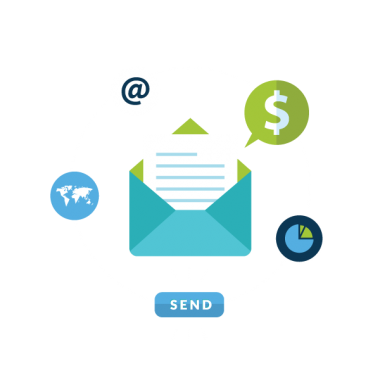 Email Marketing
We create custom email marketing content and automation campaigns to help keep you in front of current customers and help generate sales effectively engage leads and prospects.
Email marketing is still one of the most effective ways to connect with and target your audience. Stay in front of your current and potential customers and keep them updated on your company's latest deals and news.
You've probably that email marketing is dead. Don't believe the hype! Email marketing is still one of the most effective tools you have in your marketing arsenal with a potential return on investment of over 4400%. 
No matter who you are targeting or where they are located, email remains one of the top ways to reach your audience. And if you've bought into the social media has killed email hype, then check out these numbers: the average engagement rate through social media is less than 0.6%. Compare that to email's average open rate of 22.86% and an average click-through rate of 3.71%and you quickly see that email is still king.
The Best Email Marketing Strategy
Our team can help you with every aspect of your email marketing strategy, including setting up automated campaigns, defining target audiences and establish personalized and automated content for every user in your database.
Email Marketing Automation
From MailChimp to full fledged marketing automation systems like Marketo, we can design fully automated smart campaigns that target your specific audience with personalized content and materials designed to increase your sales and profitability.
Email Template Design
Our custom designs and templates are 100% compliant and designed to improve email deliverability. Our email marketing team can help bring your message to while helping your business increase audience engagement.
Tracking & Reporting
We believe in accountability that's why we provide detailed reports and metrics on all of the key aspects of your campaign such as who clicked through your email to your site, where they clicked and who converted.
We handle everything aspect of your email marketing including personalized content, campaign strategy & design, and automation management.
Increase your sales and engagement through our customized email marketing solutions. Our award winning formula combines strategy, design, management and tracking.
14
Tracking & Reporting Parameters
Tell us about your project
Let us help you take your email marketing to the next level.
We design custom emails with audience targeted content to help you increase sales, engage your customers, and onboard leads and new customers. 
"We've looked at a lot of Marketing Agencies solutions but Richardson Marketing was always the clear favorite. They have the right strategy and they've been great to work with." Lisa Warner
CEO & Founder
"These guys helped us grow into an industry powerhouse. We wouldn't be where we are without the team at Richardson Marketing!" "Extremely helpful and great customer service that helped us become a huge success at our trade show in Las Vegas. We highly recommend their services!"