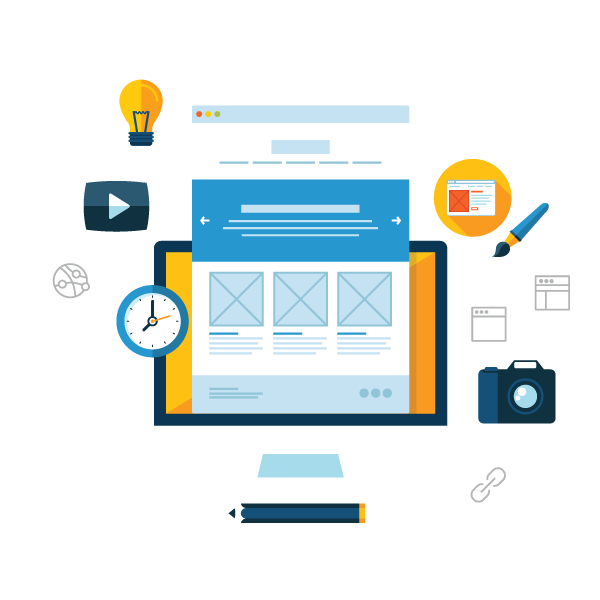 Web Design Services
A website should not just be a static brochure! Your website needs to be designed to to attract and engage your target audience, as well as communicate your brand and most importantly sell your products and services.
You business will not get a second chance to make a first impression
In today's digital world, first impressions are everything. Like it or not, those first impressions are often formed when your prospects visits your website. Let our team of designers help you make a memorable first impression with a site aesthetically designed to load fast, impress the visitor, and sell your product and services.
Branding and logo development
Graphic design and UI design
Mobile applications design
Our team loves telling stories, and in today's digital world your website needs to engage and tell a story through word and imagery that instantly helps connect your prospects and customers to your brand. Our designers are experts at creating fully customizable websites that will help you attract more customers and increase your online awareness.
We believe that a collaboration is the foundation to any successful project. Starting with a full content and brand audit we begin the process by fully understanding your needs and requirements before ever submitting a design for review. You are partners in the process and we want you to feel like this is your site! 
12
Websites for TOP 500 companies
17
Complex intranets for corporations
15
Popular Social Media applications
74
E-mail marketing strategies
8
Experienced Web Development Ninjas
Our team of experts can design a custom website that not only looks good but is built for results. From concept to completion our designers will work with you to create a custom site that is tailored to your exact business needs.
Tell us about your project
Let us help you get your business online and grow it with passion
Don't settle for second best…. Call us now and achieve the online results that your business deserves. Ready to get started?
"We've looked at a lot of Marketing Agencies solutions but Richardson Marketing was always the clear favorite. They have the right strategy and they've been great to work with." Lisa Warner
CEO & Founder
"These guys helped us grow into an industry powerhouse. We wouldn't be where we are without the team at Richardson Marketing!" "Extremely helpful and great customer service that helped us become a huge success at our trade show in Las Vegas. We highly recommend their services!"