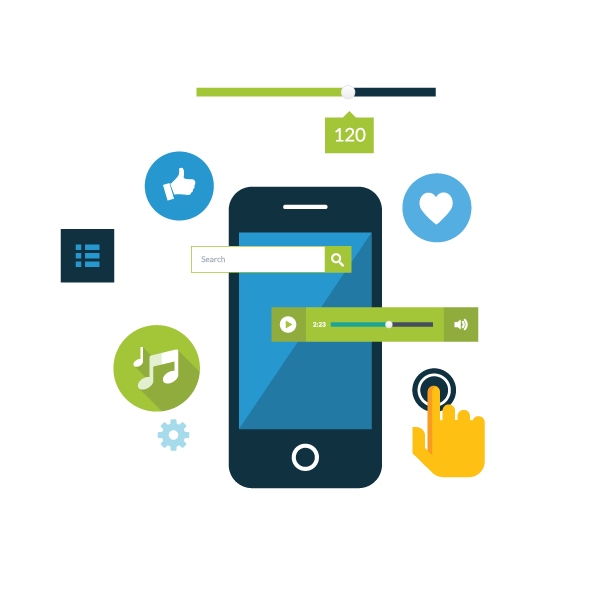 Mobile Marketing
With Mobile advertising topping the $100 billion mark, mobile advertising is redefining the way brands market to their customers.
To date, over half of all consumers have engaged in mobile commerce, doubling from the previous year. Smartphone users now outnumber PC users, which is why you cannot ignore mobile channels. Mobile marketing gives you the ability to reach your target audience anytime, anywhere, and precisely when they are ready to buy.
Mobile marketing offers the ability to interact with your customers and leads on a more personal level. And Artificial Intelligence and mobile personalization technology can target specific audiences through demographics information like age, gender and income, but can also target users based on mobile browsing data, behaviors, and precise moment to moment location.  
Experts in developing mobile marketing campaigns and applications, our implementation services are tailored to your customer's expectations and deliver immediate results that are not only highly targeted but use behavioral indicators, pinpoint locations, and analytics data to immediately deliver what the client wants at an individual level.
80%
Social media time is spent on a mobile device
88%
Who Search via Mobile call or go to that business within 24 hours
10x
Mobile Offers are redeemed 10x more frequently than print offers
80%
of email users access their email from their mobile devices
Mobile is the perfect platform for targeting your ideal prospects!  If you haven't started investing in your mobile marketing infrastructure, now is the time to go mobile!
Mobile First Design
Our mobile first approach to design ensures your customers and prospects will have the same great experience on mobile, tablet, and desktop.
Accurate Targeting
Engage and re-engage your users through mobile marketing with pinpoint accuracy. All our mobile campaigns are based on real-world data.
SMS Campaings
Our mobile sites and campaigns fully integrate with various mobile channels including SMS and marketing automation systems like Marketo.
Tell us about your project
Let us help you get your business go mobile!
You cannot afford to ignore the mobile revolution. Contact us and we will provide a Mobile Marketing strategy that will increase sales and customer engagement.
"We've looked at a lot of Marketing Agencies solutions but Richardson Marketing was always the clear favorite. They have the right strategy and they've been great to work with." Lisa Warner
CEO & Founder
"These guys helped us grow into an industry powerhouse. We wouldn't be where we are without the team at Richardson Marketing!" "Extremely helpful and great customer service that helped us become a huge success at our trade show in Las Vegas. We highly recommend their services!"