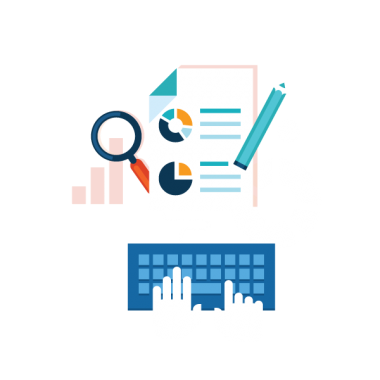 Search Engine Optimization & Marketing
Most business owners want one thing: more customers. Unfortunately, very few agencies really understand how to use SEO to generate leads. Here at Richardson Marketing our SEO experts are focused on one thing: bringing you more customers!
Our search engine optimization services include: Organic Search, On-Page SEO, Link Building, Keyword Research, Analytics Tracking and Activity Reports.
Organic Search
Our development team is made up of the perfect mix of SEO experts including content writers, technical specialists, web designers and direct marketers. We all work as a team to ensure you have an online presence that no search engine can ignore.
On-Page SEO
From making sure your pages are tagged correctly to boosting site speed and correcting internal linking structures our team is ready to implement solutions to boost your rankings and improve your search performance.
Link Building
Link building  and brand citations is an essential part of any successful SEO strategy, that's why we have a giant network of media and influencers that we work with to help you increase your website's authority and trustworthiness.
Search Engine Optimization is fundamental to achieving your business goals. Our SEO strategies are not only aimed at helping you achieve a higher ranking in search results, but also making sure those ranking result in highly qualified leads. Our SEO tean will improve your traffic and increase leads and sales.
SEO is one of the foundations of online marketing. Our SEO specialists have the ability work with your PPC, direct mail, retargeting and any other marketing channels to create a online presence that will blow your competition out of the water. 
75%
of internet users never scroll past the first page of search engines
39%
of all global ecommerce traffic comes from search
67,000
Searches are made per second, everyday on Google!
70%
of mobile searchers call a business directly from Google search!
Keyword Research / Strategy
One of the most important Search elements is making sure you target the right keywords. Our team has decades of experience building out targeted keywords to increase your search engine ranking and organic traffic.
Activity Reports
We believe in accountability and that means providing detailed reports so you know exactly what keywords are performing and where your marketing dollars are going.  Out weekly and monthly reports will provide data about your traffic, top keywords and a full explanation of your search activity.
Tell us about your project
Let us help you get your business jump to the top of the search results
Our team is ready to help you shoot to the top of the results!  
"We've looked at a lot of Marketing Agencies solutions but Richardson Marketing was always the clear favorite. They have the right strategy and they've been great to work with." Lisa Warner
CEO & Founder
"These guys helped us grow into an industry powerhouse. We wouldn't be where we are without the team at Richardson Marketing!" "Extremely helpful and great customer service that helped us become a huge success at our trade show in Las Vegas. We highly recommend their services!"