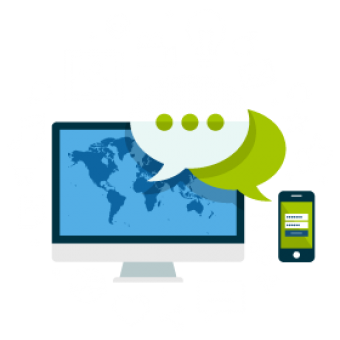 Social Media Marketing Services
An effective social strategy is more than friends and likes; social media can help you grow your business, engage with your prospects and create a community of raving fans! 
We are a full service Digital Marketing agency. Our social media experts can help you build a strategy to fully integrate your social media presence with all other aspects of your marketing and online presence.
We design our Social Media Marketing strategies specifically for your brand and your target audience. You'll get fully supported and managed social programs, content planning (and content generation), blogger and influencer outreach and video distribution among other services that aim to attract new customers and increase your ROI.
Our Social Media Services give you the ability to connect and share information leading to increased awareness, engagement, and ultimately sales. We also provide Social Media Advertising campaigns and management that can help target specific types of customers within the most popular social media platforms such as Facebook, Instagram, Twitter, Pinterest and LinkedIn.
Brand Monitoring
We can help you improve and track the reputation of your brand and find out how people perceive your business, products and your employees.
Social Media Contests
Facebook, Twitter, Instagram or Pinterest content can drive a huge amount of traffic to your website. Social contest can be a great way to engage current customers and generate a large number of leads. 
Social Media Management
Our team of social media experts can manage everything from the creation of your content to the actual posting of content to your accounts.
Setup & Custom Profile Design
We create and customize Social media profiles with content and aesthetics designed to reflect your brand, engage the user, and generate sales. 
"We've looked at a lot of Marketing Agencies solutions but Richardson Marketing was always the clear favorite. They have the right strategy and they've been great to work with." Lisa Warner
CEO & Founder
"These guys helped us grow into an industry powerhouse. We wouldn't be where we are without the team at Richardson Marketing!" "Extremely helpful and great customer service that helped us become a huge success at our trade show in Las Vegas. We highly recommend their services!" Tell us about your project and start engaging your community
Our team can help you unlock the full potential of your social media marketing and online publicity!