Real Estate Signs: Custom Signs for Realtors
We help real estate professionals and investors dominate the Las Vegas market by creating high impact signs, real estate promotions, open house signs, and directional signage. Our signs are perfect for realtors and real estate offices.
We can design a custom outdoor sign to any size, shape, or colors you want. Our expert designers can also help you create a unique look that will help you stand out from the competition.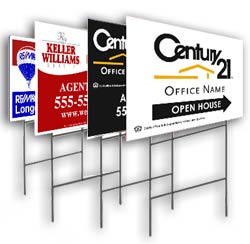 Types of Real Estate Signs:
Slide In Frames (no hardware required)
Bolt In Frames
Steel Powder Coated Frames
Hanging Signs with Posts
Inserts and Riders
A-Frames
Open House Signs
Swing posts
Stake Signs
Yard Signs
For Rent
And Any Custom Signs You Need
If you have an idea for a custom sign, give us a call and we can create them.
Are you a Las Vegas based Real Estate Agent who needs help attracting attention to your listings? Ready to order your Custom Real Estate Sign?
Call us at (702)487-5270. If you prefer, you can also e-mail us at info@richardsonmktg.com, 24 hours a day.