Custom Signs and Displays
Richardson Marketing is a Las Vegas Marketing Agency that specializes in custom Signs and Displays that are designed to capture your client's attention and help push the products and services that you need to sell. We can help you create High Impact Signage that captures attention, creates cross-sell opportunities, and increases sales.
Custom Signs & Displays
Located in the sign capital of the world, Las Vegas, Nevada, we know what it takes to create eye-popping designs and displays that engage and attract attention.
We don't sell signs; we create HIGH IMPACT SIGNAGE that drives customer interactions.
Our Signage Services: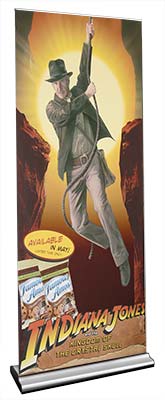 Branding & Design: From concept to completion, our professional design staff can help walk you through every step of the process. We are experts at taking your ideas and turning them into reality.
Fabrication: Our in-house team of fabricators can build any style of sign that you need. From traditional displays to custom work, we know what it takes to get the job done right.
Installation: We have years of experience installing signs in Las Vegas and throughout the country. From large format vinyl installations to tradeshow booths and pop displays, our experienced & trained installers can install your signage quickly and professionally.
Do you need signage for your business, upcoming event, or convention?
Let us help you take your business to the next level! Call us at (702) 487-5270 to talk to one of our knowledgeable sign specialists. You can also E-mail us at info@richardsonmktg.com or fill out the form below.
Request Information
Need Signs for your business? Fill out the form below and someone will contact you ASAP!